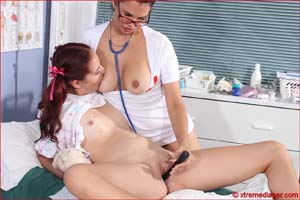 Medical G spot test meter
With Peaches in the diaper clinic for a check up, nurse Veronica says she needs her G spot tested to see if it is sensitive to touch and can give her orgasms. Peaches is willing to try so her diapered nurse untapes Peaches' Barebum disposable and inserts the vibrating G spot test probe. When she turns it on, Peaches goers nuts. It feels amazing and she has continuous multiple orgasms.
New 29th August
Sex In Diapers Section

Awesome facial cumshot in diapers

Check out Peaches in diapers giving this lucky diapered guy a blow job through a glory hole. She is so turned on by not knowing who it is she fingers her wet cunt and orgasms while sucking him off. Because she cannot see him she is unaware and caught totally by surprise when he squirts a huge load of jizz over her face.



New 29th August
Naughty Baby Sitters Section

The sexiest baby sitter

Julie is our newest and sexiest baby sitter. She likes girls and adores adult baby girls, especially Melanie. When it is time to change Melanie's very wet Parachute Bears diaper she cannot resist kissing her nipples and sliding her fingers deep inside Melanie's tight little giny. Melanie loves it and kisses her on the mouth as she climaxes.




Sitter masturbates her adult baby girl

Hot baby sitter Belle feels inside Veronica's diaper. The diaper is not wet but Veronica's pussy certainly is. Belle takes the hint and unpins the Baby Beehinds cloth diaper exposing Veronica's naughty bits. With her encouragement she fingers Veronica expertly to make her cum and get even wetter.



New 29th August
Naughty Adult Babies

Two adult baby girls totally into each other

This is the first time these adult baby girls have met and they hit it off immediately. If you like genuine adult baby girl on girl action this is the clip for you. Includes lots of sensuous tongue kissing




Naughty adult baby girl

Naughty adult baby girl Veronica touches her naughty bits when no one is watching. Slipping her fingers deep in and out of her tight little pussy she masturbates until she has a huge orgasm. She starts off in a Barebum sposie.




Her big sister's vibrator

Tara has been looking in cupboards where she is not supposed to look and she found a vibrator belonging to her big sister. She peeked into her sister's bedroom once when she heard funny noises and her sister having so much fun. She wants to try it herself.



New 29th August
Regression XXX

Squatting on a new rocking vibrator

When in big girl mode, Melanie bought a pink rocking vibrator at an adult shop. Now she is back in her nursery and on her own, she part regresses to an adult baby girl with a Baby Beehinds cloth diaper and sucking on a pacifier. Her pussy is getting wet just thinking about lowering herself on the thick and hard plastic shaft, turning on the vibrations and rocking back and forth. It every bit as good as they said on the box and she climaxed over and over again.




New 22nd August
Diapered POV Section

Adult baby girl gives YOU a big stiffy

Your adult baby friend is big enough to change your wet diaper. After all, she has seen your mommy do it many times. But when she has your diaper off she is intrigued by your willy and especially amazed at the big stiffy you get when she is wiping it clean. She rubs it up and down making it even harder. Then she compares what she has under her diaper. She has a giny and she fingers herself while she tugs you



New 22nd August
Diapered Adult Baby Boy Section

Sitter Belle is back. She missed her adult baby boy

Belle's breast have been getting bigger, just perfect for breast feeding hungry adult baby boys. The thing is, she can see her boy getting a stiffy when he is sucking on her wonderful big and firm boobs. Belle gets turned on to and knows exactly what to do with a big AB boy stiffy to keep him content after a breast feed.



New 22nd August
Naughty Baby Sitters Section

The baby sitter's turn to be finger fucked

After a naughty diaper change, adult baby girl Peaches wants to see if her sitter is wearing a diaper. Sasha is not and shows her by lifting her dress. But now Peaches is wants to touch Sasha's pussy. Sasha encourages her to not only touch it but slide her fingers in and out just the right way to make her cum. Peaches is in a Barebum sposie.




Diaper tribbing

Did you know there is a name for it? Tribbing. Most people call it "scissoring" when two girls grind the pussies together in this way. This scene is so hot with sitter Josie finger fucking AB Veronica then grinding her cunt against Veronica's diapered giny until, the both orgasm at the same time.



New 22nd August
Naughty Adult Babies

One very naughty adult baby girl

Naughty Melanie cannot help touching herself because she has learned just how nice it feels. Whenever she left alone in our nursery she undoes her diaper and finger fucks her tight little giny until she cums.




New adult baby Amanda's first ever naughty scene

Amanda has seen photos of Melanie naughtily playing with herself and it looked like so much fun she wanted to do it herself. She let us film her first ever masturbation video. She starts off in Parachute Bears disposables.



New 22nd August
Diapered Humiliation and Punishment Section

Restrained and helpless in diapers

Wearing diapers as an adult is wrong, sick and immature. This young lady needs to be taught a lesson so she will grow up and act like a mature person. She will be restrained until she gets it.




New 15th August
Diapered Adult Baby Boy Section

Horny baby sitter wants to be fingered

Josie planned on going clubbing, to pick up and get some cock but she ended up baby sitting this adult baby boy instead. She was annoyed and frustrated until she discovered adult baby boys can have big stiffies and she can teach them how to finger fuck her while she tugs them



New 15th August
Naughty Baby Sitters Section

Wendy breast feeds and more

Wendy is breast feeding cute little Tara when she checked inside Tara's diaper to see if she needed changing. She didn't but she noticed Tara like Wendy's hand moving inside her diaper. Because Tara has been such a well behaved girl lately, Wendy used her fingers to make her feel really good.




Boobs, titties and diapers

Pretty Jasmine likes to suck on her baby sitter's big breasts. It feels very nice to Belle and she gets quite aroused. She figures it is only fair that she does the same to Jasmine and kisses and licks Jasmines very erect nipples while finger fucking her to an intense orgasm



New 15th August
Naughty Adult Babies

Pacifier play time

Delightful Melanie can get very naughty when she is left all alone in her nursery. She unpins her cloth diaper which is bad enough but then she masturbates with her pacifier. The massive climax she has is worth the risk of getting into trouble. Fortunately this time she finishes her sexual experience and is all pinned back together before her mommy sees her.




Adorable adult baby girl and some lotion

Our new adult baby girl Sierra has taken the bottle of lotion off the shelf and is rubbing it all over her titties. It feels really nice. She moves her hand inside her Barebum disposable diaper to touch herself at the same time.




Orgasmed with her bottle

Veronica makes herself cum by rubbing the teat of her bottle on her clit. She also slides it in and out of her giny for extra sexy sensation. She started off wearing a thick cloth diaper and plastic pants.



New 15th August
Diapered Medical Section

Naughty diapered nurse

Our diapered nurse Peaches is caring for her diapered patient on the Diaper Clinic. When she takes off his pyjama pants she is shocked by the huge cock poking through his disposable diaper. But shock soon turns to awe and she wants it in her mouth right now, She gives the most talented suck and blow job until he shoots a huge load of cum. She plays with this cum and licks it off before putting his pyjamas back on as if nothing happened.





New 8th August
Diapered POV Section

AB girl licks up cummies

One of our hottest POV scenes ever. Cute adult baby girl Melanie feels your big stiffy through your diaper. She knows it is so naughty but she wants to play with it. She strokes it to get it rock hard then puts it in her mouth for an amazing blow job. When you do the biggest cummies she smiles and licks it off the tip of your big, thick stiffy



New 8th August
Naughty Baby Sitters Section

One very naughty diaper change. Pt 2

Pt 2. More of sitter Vanessa and her enormous natural breasts. This time cute Peaches has wet her cloth diaper and Vanessa takes the opportunity after removing the wet diapee and wiping her to finger fuck peaches to a massive orgasm. They kiss and lick each other's nipples too.



New 8th August
Naughty Adult Babies

New cute and innocent adult baby girl

New and cute. Adult baby girl Amanda, adores the sensation of baby powder on her skin. She rubs it all over her firm, young titties getting her nipples fully erect and down inside her thick cloth diaper




In diapers and playing with skittles

Our very naughty Tara is playing with the skittles her mommy bought her. But her mommy would be shocked if she saw exactly what Tara did with it. She pushed the end into her giny. It is really wide and it stretched her tight pussy wide. Uncomfortable at first it felt amazing when fully inside and she had a big orgasm



New 8th August
Sexual Diaper Lovers Section

Pearls and diapers

Diaper lover Veronica can be quite classy at times and loves her pearls as well as diapers. She has a nice pearl necklace around her neck and a very long string of pearls inside her pussy that she slowly pulls out. She says the feeling is quite intense.




New 8th August
Diapered Humiliation and Punishment Section

Helpless in diapers

Totally restrained and in diapers, Peaches is at the mercy of her dom who can do what ever he wants to her. Wriggle and squirm all she wants, she cannot get away.




New 8th August
Naughty Adult School Section

At school with a wet diaper. Pt 2

Pt 2. Melanie has wet her Bambino Blanco sposie at school and needs to change herself. But when she is wiping herself clean, it feels really nice so she forgets about the wet wipes and uses her fingers instead. Rubbing her swollen clit and pushing her fingers in and out of her tight giny, she eventually makes herself cum just before people come back to her classroom




New 1st August
Diapered POV Section

Her hubby is a diaper lover

YOU are Josie's hubby and she discovers you are wearing diapers. That is so embarrassing and she teases you. But then she says she kinda likes it and rubs the disposable making crinkly sounds. When she rubs over your cock you get a massive erection. Josie wants to encourage your diaper wearing fetish so she makes you do big cummies for her. It feels amazing when you shoot a huge load over her hand and your diaper.



New 1st August
Diapered Adult Baby Boy Section

A diaper change, a breast feed and a blow job

This lucky adult baby boy has huge boobed Vanessa taking care of him today. First his very wet diaper needs to be changed and then he needs a big breast feed. When Vanessa notices him getting a stiffy she takes his hard willy in her hands and strokes it to get it rock solid. Then she leans over and tales it in her mouth for an awesome sucking session before putting his new diaper on.



New 1st August
Naughty Baby Sitters Section

One very naughty diaper change

More of sitter Vanessa and her enormous natural breasts. This time cute Peaches has wet her cloth diaper and Vanessa takes the opportunity after removing the wet diapee and wiping her to finger fuck peaches to a massive orgasm. They kiss and lick each other's nipples too.



New 1st August
Naughty Adult Babies

Two very rude adult baby girls

Both spunky adult baby girls Melanie and Veronica have on Awwsocute sposies. Melanie is always the most adventurous and she wants to see what is inside Veronica's diaper. When she "accidentally" touches Veronica's little giny, Veronica obviously liked it and encouraged her to do more. To do a whole lot more with her fingers in fact. Maybe even make her cum!




Milk bottle masturbation

Peaches moves from having the teat of her milk filled bottle in her mouth to rubbing it in her tight little pussy. It feels fantastic and she orgasms again and again before putting her Babylove disposable back on.



New 1st August
Regression XXX

Baby Beehinds, a strapless bra and her fingers

Sucking on a pacifier in our nursery with a sexy big girls strapless bra, Melanie is getting horny from wearing a thick Baby Beehinds cloth diaper. She slips her hand inside her diaper to touch her pussy and already it is very wet from her sex juices. Next she unpins one side to more easily slips two fingers deep inside her very tight cunt.




New 1st August
Sexual Diaper Lovers Section

Parachute Bears sposie fingering

Always spunky diaper lover Peaches gets off from wearing diapers. Today she chose Parachute Bears disposables which she loves. Untaping one side, she masturbates to a very loud climax while we watch.





New 25th July
Diapered POV Section

Two baby sitters suck YOU off. Cumshot. Pt 2

Pt 2. YOU must be the luckiest adult baby boy alive. Two sexy baby sitters want YOUR stiffy out of your diaper and into their mouths



New 25th July
Diapered Adult Baby Boy Section

AB girl tugs his stiffy and masturbates

A very naughty adult baby girl undoes this AB boy's diaper to play with his stiffy. She knows girls are different to boys and finds it amazing how he gets big and hard in her hand. She checks out her own private parts and finds a very wet hole. She slips two fingers deep inside and it feels amazing. She masturbates herself to an intense orgasm while rubbing his big, hard willy up and down with her other hand.



New 25th July
Naughty Baby Sitters Section

Fingering fun in Awwsocute sposies

Belle is checking Jasmine's disposable for wetness. It is not wet yet but Jasmine liked it when Belle's hand rubbed over her giny. She encouraged Belle to go further. A whole lot further. Soon Belle had her fingers inside her adult baby girl and they were tongue kissing and kissing each other's boobies.



New 25th July
Naughty Adult Babies

Sensually eating her snack

So sensuous, our new adult baby girl Sierra in just Babylove sposies and a bib eating her jelly and fruit snack. You will just love her.




A what? A pacifier dildo?

Perfect for naughty adult baby girls, we have stiffy shaped pacifiers for them to suck on and masturbate with. Rude Melanie is having a great time when no one is around. She climaxes over and over. She starts out in a Babylove disposable diaper.




Rude adult baby girl diaper change

Slightly older Peaches is going to change Tara's wet sposie. So far, Peaches is still dry in her Parachute Bears disposable. After she removes Tara's diaper, she grabs the wipes and starts to wipe her private areas clean. Tara is liking being intimately touched and encourages Peaches to go further. A whole lot further. Soon, Peaches has her finger inside Tara's very tight giny fingering her to a sexual climax



New 25th July
Regression XXX

Lingerie, a pacifier, a vibrator and a diaper

How sexy is this? Veronica looking smoking hot diapered and in sexy lingerie and stockings sucking on a pacifier. If that isn't enough she pulls out her new vibrator to fuck herself with. She says this new vibrator combined with the sensation of the diaper is simply awesome and she had a massive orgasm. Veronica is in Bambino Blanco disposables.





...and so on and so on back to 2001

<! --&&&&&&&&&&&&&&&&&&&&&&&&&&&&&&&&&&&&&&&&&&&&&&&&&&&&&&&&&&&&&&&&&&&&&&&&&&&&&&&&&&&&&&&&&&&&&&&&&&&&&&--> <! --&&&&&&&&&&&&&&&&&&&&&&&&&&&&&&&&&&&&&&&&&&&&&& Start "You Get The Idea" &&&&&&&&&&&&&&&&&&&&&&&&&&&&&&&&&&&&&&&&&&&&&&--> <! --&&&&&&&&&&&&&&&&&&&&&&&&&&&&&&&&&&&&&$$$$$$$$$$$$$$$$$$$$$$$$$$$$$$$$$$$$$$$$$$$$$$$$$$$$$$$$&&&&&&&&&-->

JOIN and ENJOY tonight! Get ELEVEN YEAR'S OF CONTENT | 170,000+ images | 3000 Video clips

Copyright © 2012 GND. All rights reserved.
xtremediaper.com

Huge range of selected
3 to 15 minute clips
Visit our
Clips4Sale store
Buy to own
No monthly membership
No rebills

FULL LENGTH XTREME DIAPER MOVIES
Movies are a separate purchase
They are not included in the members area.


Our most pornographic TRIPLE X XtremeDiaper movie ever!
This movie will have you cumming in your diaper again and again




SEX SITTER CLASS


Join our hands on advanced class for Co-ed babysitters who want to give their AB boys that extra special attention
They learn and practice on a real AB boy how to masturbate, suck, fuck and make their AB boys CUM
Another full on explicit TRIPLE X XtremeDiaper movie
Our diapered nurses will keep you cummimg back again and again for more treatment





XTREME DIAPER HOSPITAL


Your visit to the diaper hospital for incontinence is an amazing experience. Two HOT fox diapered nurses want to diaper you bad and then break all the rules when they see your cock